Data summary preparation
Source:
R/summarizor.R
summarizor.Rd
It performs a univariate statistical analysis of a dataset by group and formats the results so that they can be used with the tabulator() function or directly with as_flextable.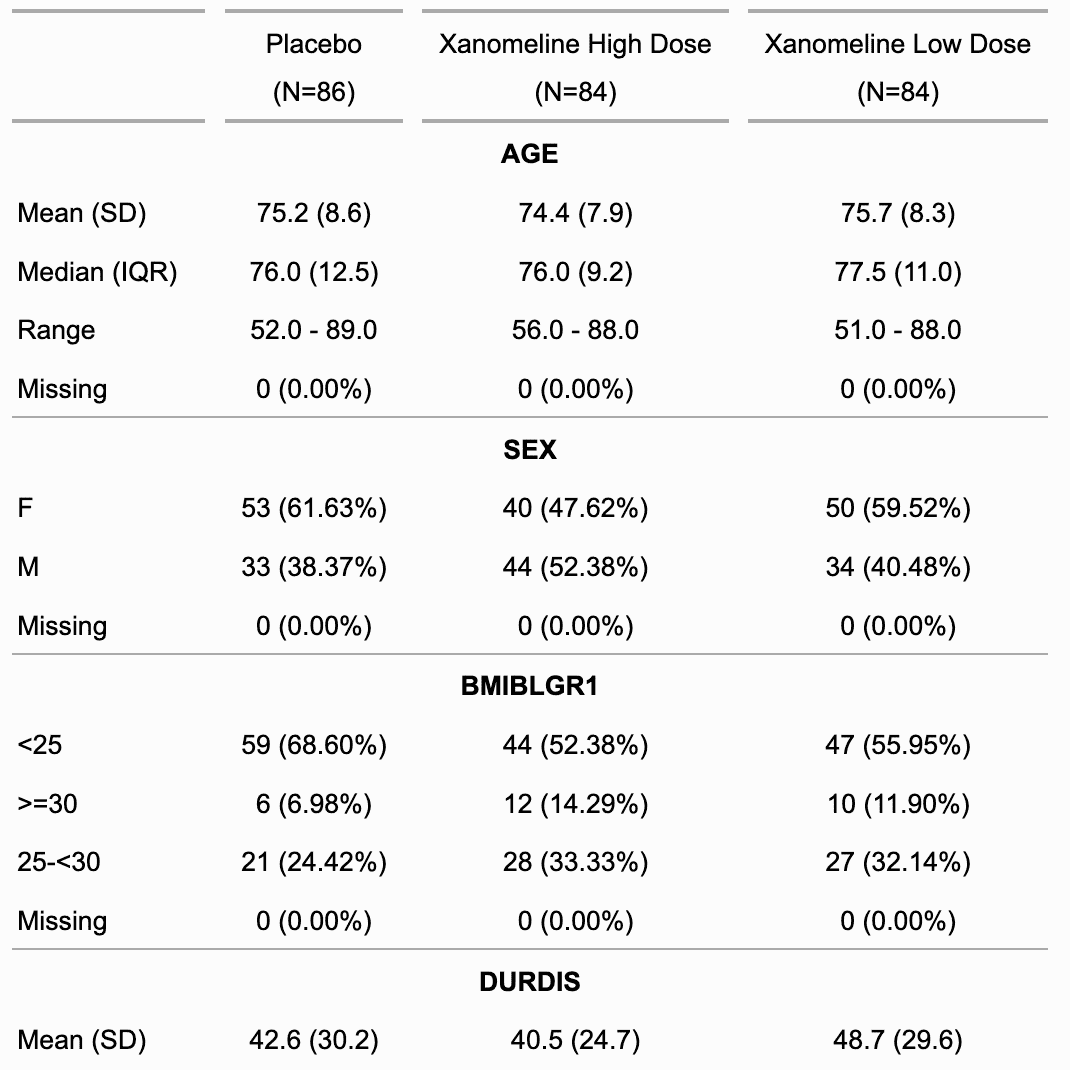 Arguments
x

dataset

by

columns names to be used as grouping columns

overall_label

label to use as overall label

num_stats

available statistics for numerical columns to show, available options are "mean_sd", "median_iqr" and "range".

hide_null_na

if TRUE (default), NA counts will not be shown when 0.
Examples
# \dontshow{




data.table

::

setDTthreads

(

1

)




# }




z

 

<-

 

summarizor

(

CO2

[

-

c

(

1

, 

4

)

]

,
                by 

=

 

"Treatment"

,
                overall_label 

=

 

"Overall"




)




ft_1

 

<-

 as_flextable

(

z

)




ft_1




nonchilled
(N=40)

chilled
(N=42)

Overall
(N=82)

Plant

Qn1

5 (12.50%)

0 (0.00%)

5 (6.10%)

Qn2

7 (17.50%)

0 (0.00%)

7 (8.54%)

Qn3

7 (17.50%)

0 (0.00%)

7 (8.54%)

Qc1

0 (0.00%)

7 (16.67%)

7 (8.54%)

Qc3

0 (0.00%)

7 (16.67%)

7 (8.54%)

Qc2

0 (0.00%)

7 (16.67%)

7 (8.54%)

Mn3

7 (17.50%)

0 (0.00%)

7 (8.54%)

Mn2

7 (17.50%)

0 (0.00%)

7 (8.54%)

Mn1

7 (17.50%)

0 (0.00%)

7 (8.54%)

Mc2

0 (0.00%)

7 (16.67%)

7 (8.54%)

Mc3

0 (0.00%)

7 (16.67%)

7 (8.54%)

Mc1

0 (0.00%)

7 (16.67%)

7 (8.54%)

Type

Quebec

19 (47.50%)

21 (50.00%)

40 (48.78%)

Mississippi

21 (52.50%)

21 (50.00%)

42 (51.22%)

conc

Mean (SD)

445.6 (299.9)

435.0 (297.7)

440.2 (297.0)

Median (IQR)

350.0 (500.0)

350.0 (500.0)

350.0 (500.0)

Range

95.0 - 1000.0

95.0 - 1000.0

95.0 - 1000.0

uptake

Mean (SD)

30.8 (9.6)

23.8 (10.9)

27.2 (10.8)

Median (IQR)

31.3 (12.3)

19.7 (20.4)

28.3 (18.8)

Range

10.6 - 45.5

7.7 - 42.4

7.7 - 45.5




ft_2

 

<-

 as_flextable

(

z

, sep_w 

=

 

0

, spread_first_col

=

TRUE

)




ft_2




nonchilled
(N=40)

chilled
(N=42)

Overall
(N=82)

Plant

Qn1

5 (12.50%)

0 (0.00%)

5 (6.10%)

Qn2

7 (17.50%)

0 (0.00%)

7 (8.54%)

Qn3

7 (17.50%)

0 (0.00%)

7 (8.54%)

Qc1

0 (0.00%)

7 (16.67%)

7 (8.54%)

Qc3

0 (0.00%)

7 (16.67%)

7 (8.54%)

Qc2

0 (0.00%)

7 (16.67%)

7 (8.54%)

Mn3

7 (17.50%)

0 (0.00%)

7 (8.54%)

Mn2

7 (17.50%)

0 (0.00%)

7 (8.54%)

Mn1

7 (17.50%)

0 (0.00%)

7 (8.54%)

Mc2

0 (0.00%)

7 (16.67%)

7 (8.54%)

Mc3

0 (0.00%)

7 (16.67%)

7 (8.54%)

Mc1

0 (0.00%)

7 (16.67%)

7 (8.54%)

Type

Quebec

19 (47.50%)

21 (50.00%)

40 (48.78%)

Mississippi

21 (52.50%)

21 (50.00%)

42 (51.22%)

conc

Mean (SD)

445.6 (299.9)

435.0 (297.7)

440.2 (297.0)

Median (IQR)

350.0 (500.0)

350.0 (500.0)

350.0 (500.0)

Range

95.0 - 1000.0

95.0 - 1000.0

95.0 - 1000.0

uptake

Mean (SD)

30.8 (9.6)

23.8 (10.9)

27.2 (10.8)

Median (IQR)

31.3 (12.3)

19.7 (20.4)

28.3 (18.8)

Range

10.6 - 45.5

7.7 - 42.4

7.7 - 45.5




z

 

<-

 

summarizor

(

CO2

[

-

c

(

1

, 

4

)

]

)




ft_3

 

<-

 as_flextable

(

z

, sep_w 

=

 

0

, spread_first_col

=

TRUE

)




ft_3




Statistic
(N=82)

Plant

Qn1

5 (6.10%)

Qn2

7 (8.54%)

Qn3

7 (8.54%)

Qc1

7 (8.54%)

Qc3

7 (8.54%)

Qc2

7 (8.54%)

Mn3

7 (8.54%)

Mn2

7 (8.54%)

Mn1

7 (8.54%)

Mc2

7 (8.54%)

Mc3

7 (8.54%)

Mc1

7 (8.54%)

Type

Quebec

40 (48.78%)

Mississippi

42 (51.22%)

Treatment

nonchilled

40 (48.78%)

chilled

42 (51.22%)

conc

Mean (SD)

440.2 (297.0)

Median (IQR)

350.0 (500.0)

Range

95.0 - 1000.0

uptake

Mean (SD)

27.2 (10.8)

Median (IQR)

28.3 (18.8)

Range

7.7 - 45.5